Posted by
commcom
on Oct 12, 2004 in
Uncategorized
|
0 comments
Today DemocracyNOW broadcast the documentary Preventive Warriors by Michael Burns in it's entirety in commemoration of Indigenous Peoples Day.

The film examines a bold new foreign policy paper introduced by the White House in September 2002 entitled: "The National Security Strategy of the United States."

The document outlines a radical new doctrine in American foreign policy: one of so-called "pre-emptive warfare." The Bush administration used this policy as a justification for the invasion of Iraq.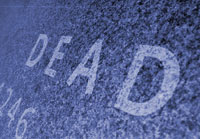 Click here to watch the film (RealPlayer)

[Runtime 1 hour]
This film also discusses the following document produced by the Project for the New American Century entitled "Rebuilding America's Defenses: Strategy, Forces and Resources For a New Century" [PDF].