Posted by
Kyle E. Moore
on Dec 10, 2007 in Uncategorized |
17 comments
Stunning green eyes, golden hair, and a sweet, carefree smile, Jamie Leigh Jones looks as though her picture would be at home on a magazine cover.  One can imagine the Houston native's accent, the "yalls" and the slow drawls, as well as the sun filtering through her blonde curls as she sips on ice tea, her biggest worry at this time of year perhaps making sure that she had covered everyone on her Christmas list.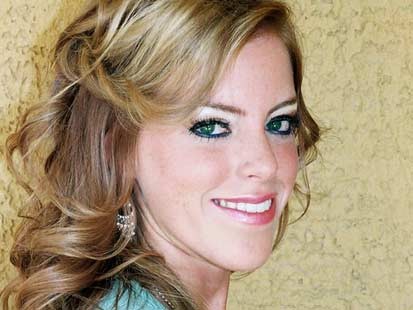 Unfortunately, behind that pretty face lurks a much darker story, one that should shock, but strangely, fail to surprise.
At the heart of my personal disdain for those who are so quick to claim that we are winning in Iraq is how shallow the assertion is, how blindly ambitious it is to make light of our disastrous presence there that it seeks to ignore everything but the most rudimentary of metrics in Iraq.  Iraq war cheerleaders complain about how so much of the news coming from Iraq is negative, and suggest (or more accurately, demand with blustering abandon) that we should focus only on the good that comes out of our adventure in Mesopotamia.
It is a surface diagnosis, one that smells of national arrogance.  It is a fool's folly to focus so intently on the good that mistakes are not corrected, wrong paths are not followed, and those who are proud of America no matter what she does allows it to slip into a darkness that those who love America more realistically loathe, not only for the ill we do in the world, but because such things erode that ideal of America that is worth being proud of in the first place.
In the case of Ms. Jones, there is an air of the old chicken or egg argument about it.  This past September, for instance, the world beheld the actions of the private mercenary firm, Blackwater, and how simple it was to avoid the rule of law, or justice in any guise for that matter.  Though contractors for the company opened fire upon Iraqi citizens without provocation, killing at least seventeen, we would later learn that the long arm of the law did not exactly reach these hired guns.
Though most Americans would take that long to realize that Blackwater was not required to answer to the law of either Iraqis or Americans until the aftermath of that fateful incident, in truth, that is how it has always been.  No bid contractors operating in the chaos we created without any kind of regulations or restrictions to ensure that they uphold the highest standards of service, professionalism, and outright human behavior.
Disgusted, I think, is the proper emotion I felt when the only standards the company had to meet where its own recycled press release that it held its employees to high standards.  This an eerily scary mirror of Kellog, Brown & Root's answer to Jamie's story, "The safety and security of all employees remains KBR's top priority…  Our commitment in this regard is unwavering."
It's the cookie cutter corporate response; a meaningless blurb about how much the company cares standing as contradiction to the actual situation considering such a statement would not need to be made in the first place if they actually stood by it.
And what exactly happened to Ms. Jones that has KBR on its heels?  According to Ms. Jones, she was drugged, gang raped, and held in a guarded container after being threatened that informing authorities of her rape would result in her not being able to get a job anywhere.  Especially in the wake of the Duke debacle, one is initially cautious to lay blame without the courts which stand as the cornerstone of our legal system, but there are two aspects that might prove troublesome here.
The first is the circumstances of Jones' release from her captors.  According to the ABC report, Jones was able to convince a sympathetic guard to loan her a cel-phone that she used to call her father.  Her father then called his representative, who then contacted the State Department.  It was State who rescued her from her prison which, if you cast aside all accusation of rape, still leaves the question, what was she doing there in the first place?
The second thing to understand is that Ms. Jones' case will likely never be heard in court.  Two years after the incident, KBR's standing puts it out of reach of federal statutes, leaving a civil suit the only path that Ms. Jones has available to her for justice.  Only, apparently her employee contract also prevents this, requiring instead arbitration that omits juries, judges, even transcripts.
Further, it is useful to note that KBR has won about 80% of its arbitrations.
And so for the second time in less than a month, we are brought to our national conscience a moment where a woman was forced to endure the terror of rape, and the tragic aftermath wherein justice is not only cast aside, but made a mockery.
As I read about Ms. Jones' story, I was forced to recall another story that occurred in Saudi Arabia.  There a Shia woman of only nineteen years of age was gang raped by six armed men, but because she and her lawyer protested their rather light sentence, she was herself ordered 200 lashes, twice what she was already being sentence for committing the crime of being raped.
I can't imagine the brutality that Ms. Jones suffered, who could that has not undergone that same nightmare themselves.  But for me, for some reason, the more tortuous contemplation is what it must have felt like in that container.  Already hurt, already scared, and now being punished for committing the terrible crime of being raped.
And I don't get it.  I don't get an America where we actually have to have people stand up and say that rape is bad, and those who commit rape should be punished, or worse, punishable by law.  I don't even get how there has to be an uproar that those acting under the flag themselves have to be held accountable to the law at all times.
It makes no sense, but it sends a message.  It tells the world that our government, and those it chooses to knight, are as gods.  That for those lucky few, the law is a pleasantry, optional.  Meanwhile, for women like the young Saudi who was punished for being a victim, like Du'a Khalil Aswad who was stoned to death for falling in love, for the women and children forced to sell their bodies on the streets to make a living, and for Jamie Leigh Jones, justice is a commodity that remains permanently out of reach.
In our latter day excursions of Manifest Destiny, our leaders talk much of spreading those principles of America throughout the world; freedom and democracy.  But rarely will you find Bush adding justice to that package.  You see, we would have to practice it first.
Others Blogging (per memeorandum, and there aren't enough out there blogging it): Discussion: Crooks and Liars, The Carpetbagger Report, Liberty Street, The Atlantic Online, Shakespeare's Sister, All Spin Zone, Don Surber and Greatscat!
Thanks to Isabel of Bastard Logic for linking in, and as Matt points out, the Canooks (sp?) are on this story as well.