Ah, yes, my favorite addiction, the Gallup Daily Tracking Poll.  Oh great flimsy barometer of the political landscape, what can you tell me this time?
I just wanted to take a quick moment to look at yesterday's daily tracker because I find two things that are interesting.
First, Hillary vs. Obama: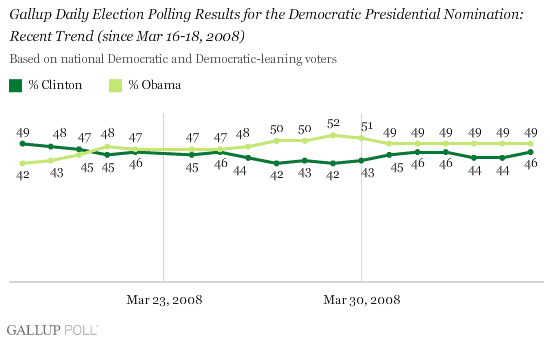 This gives us fifteen days straight with Obama on top either with a significant, or a statistically insignificant lead.  The only other two stretches that go this long or longer occurred back before February where Clinton maintained a very significant and long term lead, and in February in the middle of Obama's considerable win streak.
The next thing to look at is Obama vs. McCain: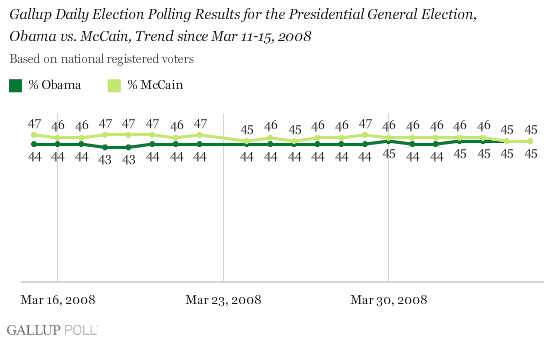 We're seeing here over the past two days the first time that Obama has drawn perfectly even with McCain.
Now, I don't want to over analyze these polls, but both of these put together might start telling us a story.  One thing I've been particularly aware of is the fact that McCain has been polling better than the Democratic candidates in hypothetical match ups.  My theory on this has remained that the Democratic primary is still contentious, support is split, at least narrowly, while he is enjoying the benefit of a no longer contested run with a party that is unifying itself for the fall.
So, I've longed suspected that for as long as the Democratic nominee remains unclear, McCain's going to continue to poll close,or better than either Obama or Clinton.
Now, all of this data is within the statistical margin of error, so take this for what it's worth, but what looks to be happening is Obama is solidifying as the frontrunner.  What this is doing is slowly bolstering his support amongst the base, and allowing him to be more competitive against McCain.
Again, this is a single poll, and polls within the margin of error, but if we're looking for the beginnings of true trends, that's where my nose is telling me this is going.  We'll have to wait and see if my nose is right.