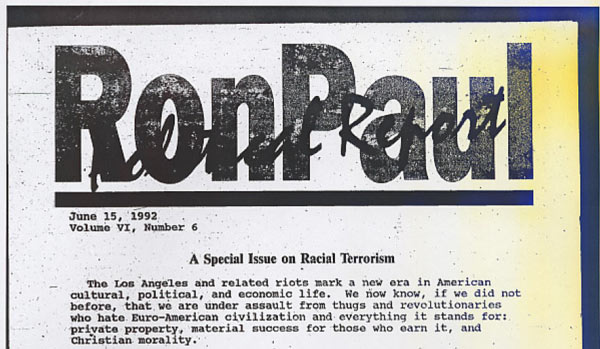 WaPo:
The Republican presidential candidate has denied writing inflammatory passages in the pamphlets from the 1990s and said recently that he did not read them at the time or for years afterward. Numerous colleagues said he does not hold racist views.

But people close to Paul's operations said he was deeply involved in the company that produced the newsletters, Ron Paul & Associates, and closely monitored its operations, signing off on articles and speaking to staff members virtually every day.

"It was his newsletter, and it was under his name, so he always got to see the final product. .?.?. He would proof it," said Renae Hathway, a former secretary in Paul's company and a supporter of the Texas congressman.
His newsletter. His name. Proofed.
A person involved in Paul's businesses, who spoke on condition of anonymity to avoid criticizing a former employer, said Paul and his associates decided in the late 1980s to try to increase sales by making the newsletters more provocative. They discussed adding controversial material, including racial statements, to help the business, the person said.

"It was playing on a growing racial tension, economic tension, fear of government," said the person, who supports Paul's economic policies but is not backing him for president. "I'm not saying Ron believed this stuff. It was good copy. Ron Paul is a shrewd businessman."
Oh yeah. Great copy. Shrewd business. But he didn't believe that stuff.
If you believe that a character who would conspire to profit off of white supremacy, anti-gay bigotry, and anti-Semitism is the best vehicle for convincing the country to end the drug war, to end our romance with interventionism, to encourage serious scrutiny of state violence, at every level, then you should be honest enough to defend that proposition.
Look, maybe Nick Gillespie is right: perhaps all this really shows is that pobody's nerfect, and…hey look over there — NAACP President Ben Jealous, one of Ron Paul's innumerable BLACK FRIENDS!!1 But Paul built his vast political capital by cementing in the public consciousness an unshakable image of consistency, honesty, and, above all, conviction.  The newsletters dissolve that fiction.
If Paul was willing to pimp white nationalist pr0n to Willis Carto's debased, cash-happy fanbase when it was financially lucrative and politically feasible to do so, what won't he say or do to make a goddamn dollar?
Ask yourself that the next time the rEVOLution drops a money bomb.